SUPERCHARGE your season with
The Lucinda Green XC Course
A FAST TRACK

guide to XC Confidence BUY NOW
All The Tools You Need To Develop a  Successful XC Partnership with your Horse 
4 weeks of concentrated XC to prepare you for the season ahead and lay down the crucial foundation upon which you will continue to gain confidence and progress.
Buy Now
If you would like to transform your XC into a fun and rewarding experience at the same time as developing the skills that you both need to succeed XC - read on.
Meet Lucinda Green...
6 times Badminton winner, World, Olympic and European Champion, she has been coaching XC for more than 40 years around the world.
Her mission is to keep XC at the heart of eventing. Lucinda's "Greenprint" (the fundamentals of XC) helps riders discover the crucial bond between them and their horses and is paramount to achieving that mission.
In 2020 Lucinda launched her XC Academy, an online membership develop XC skill and bring like minded riders together.
2023 brings a new initiative - The Lucinda Green XC Course - a fast track guide to confident XC.
WEEK 1:

The

"Greenprint" & "Ready 4 Trouble" Position
This week gives you the fundamental trainings Lucinda uses for all her horses, young and old. It is the foundation of XC training and should be re visited when things go wrong.
Developing a survival balance on your horse not only keeps you safe but allows him to do his job. To think for himself whilst listening to you.
WEEK 2:

Foundation Obstacles & Rough Ground Training (RGT)
RGT is the most effective way to train you and your horse for confident XC. This week we will learn why we should get out of the school and what to do. Water, banks & ditches are a mainstay of all XC courses. How do we tackle them?
WEEK 3:
Technical Fences
XC has become much more technical over recent years and we are regularly faced with corners, skinnies and difficult angles. This week is going to give you the skills to ensure that you enjoy the challenge set by the course designer and your horse understands and takes on the challenge set for you both.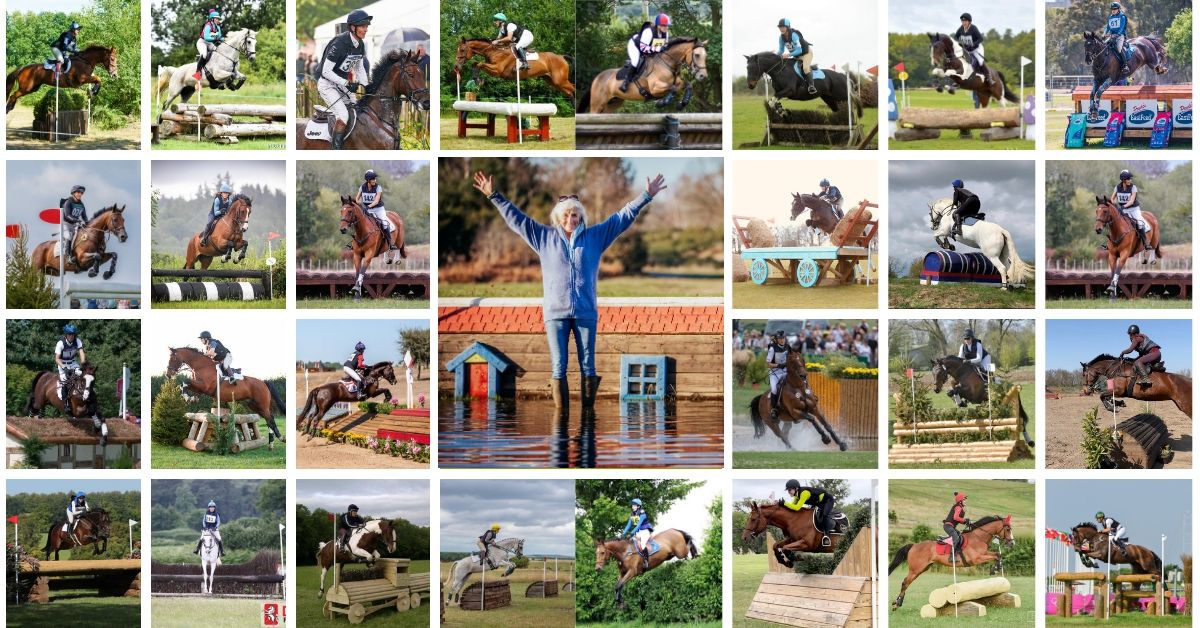 WEEK 4:
Speed & Compete
It's competition time. Preparation, Kit, Course Walking and the Start Box all feature this month.
Speed isn't all about going fast. This week we find out how to shave off those valuable seconds in competition that are the difference between 1st and 10th.
Breakout Rooms
Each week of the course we host a Zoom where riders get together, breakout into rooms and discuss their progress. Not only do you learn from one another it is a great way to make new friends (all over the world)
Buy Now
Community
Join the exclusive XC Course FB Community where you can share your progress and cheer one another on. This is the perfect way to support each other as you lay down your XC foundation.
Buy Now
Video Learnings
Each week Lucinda releases a module of videos covering the weekly content. Not only are there "how to" videos but also "when it goes wrong" videos and what to do. You will have access to these videos forever.
Buy Now
We are so confident you are going to love this course that we will offer you a full refund within 14 days of purchase if you are not happy after watching all of the content.
Can I join in my country?
If I miss a Live can I still watch it?
Is the Lucinda Green XC Course for any level of rider/horse?
I can't log in to my account, what should I do?
What if can't keep up with the course throughout the month?